Ashwagandha root extract (withania somnifera)


Ashwagandha, this root has been used in India by practitioners of Ayurvedic herbal medicine (or Ayurveda) for many thousands of years. This plant grows in India which may not surprise you but surprisingly also in North America.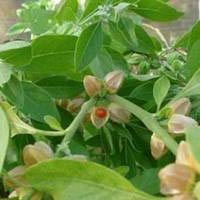 Ashwagandha Plant
Ashwagandha has potent adaptogen properties and is used as a general tonic by Ayurvedic practitioners.
For those unfamiliar with adaptogens these are very valuable substances that help the body to handle stress and regulate or balance the bodies major functions - maintain homeostasis within the body. Other examples of excellent adaptogens are jiaogulan, panax ginseng and goji berries.


Note: Root extracts are typically much more concentrated and potent than just powders.


Ashwagandha contains valuable flavonoids as well as several active alkaloids of the withanolide class.

Withanolides are what is believed to account for the very valuable health properties of Ashwagandha root.


Ashwagandha root.is reported to have anti-inflammatory, anti-tumor , anti-stress, antioxidant, mind-boosting, immune-enhancing, and rejuvenating properties. Also from a historical prospective Ashwagandha has been noted to have sex-enhancing properties.

This herb is also reported to have anti-aging, rejuvenating and longevity benefits.